The Verano Monumental Cemetery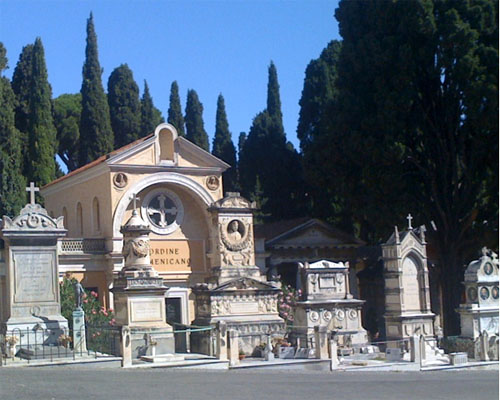 GO TO FOTOGALLERY
The Verano Monumental Cemetery has been a burial site for at least twenty centuries, as demonstrated by the remains of a Roman necropolis known as the Catacombs of Santa Ciriaca.
The name Verano refers to the fact that the land once belonged to the Verani, a senatorial family at the time of the Roman Republic.
Established along the Via Tiburtina consular road during the Napoleonic reign of 1805-1814, in accordance with the Edict of Saint Cloud of 1804, which stipulated that burial sites be located outside of city walls, the project was assigned to the architect Giuseppe Valadier in the years 1807 to 1812.
The cemetery was consecrated in 1835, with work continuing during the papacies of Gregory XVI and Pious IX, under the supervision of Virginio Vespignani.
Further construction work was performed even after Rome became the Capital of the newly united Italy (1870-1871), with large plots of land being added to the complex, such as the Villa Mancini, which included the Pincetto area.
The main entrance with its three openings, rendered even more imposing by four large statues depicting Meditation, Hope, Charity and Silence, precedes a large, four-sided portico designed by Vespignani and completed in 1880.
The present-day arrangement dates from the restoration following the bombing of the San Lorenzo neighbourhood (19 July 1943), in which three areas of the Cemetery were damaged: the monumental entrance, with the four-sided portico and the Pincetto area, plus the administrative offices and the zone in front of the Military Memorial.
The Verano Monumental Cemetery, with its rich heritage of art, stands as an open-air museum without equal in terms of the quantity and features of the works to be seen: an incalculable treasure from the point of view of history, art and culture.Go to fotogallery
Usefull information
The Verano Monumental Cemetery
Piazzale del Verano, 1
Mortuary Room 06-49236216
View map
Hours open to the public
from 1 October to 31 March 7:30 am – 6:00 pm
from 1 April to 30 September 7:30 – 7:00 pm
Visitor may enter up to one hour before closing time.

SOS – Security inside the Cemetery
Tel. 06-49236252 or 49236255 daily from 7:30 am to 6:00 pm
Ama Operations Centre
Tel. 06-516933 or 516939 or 516940 daily, 24 hours a day
The following categories of individuals may enter the Historic Verano Cemetery using automobiles,
assuming they have obtained authorisation to do so:
individuals older than 75 years of age: every day.
individuals older than 65 years of age: from Monday to Saturday.
individuals with disabilities affecting their motor skills: every day. The official sign indicating the disability should be displayed in the vehicle.
individuals with temporary problems affecting their capacity of movement: every day. Medical certification corroborating the temporary disability must be presented.
The entry permit is issued immediately, following presentation of the documentation. An annual permit may also be requested.
Entry with scooters or motorcycles is not permitted.
Transportation:
bus and tram lines 3 -19 -71 - 88 - 163 – 163F-443 - 448 - 490 - 491 - 492- 495 – 542-542F-545 - 649 - C2 - C3