Verano Monumental Cemetery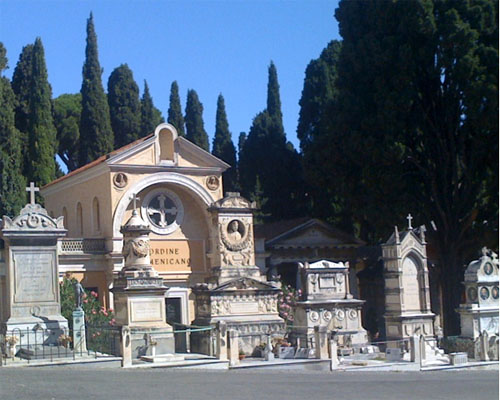 GO TO FOTOGALLERY
Verano Monumental Cemetery has been a burial site for at least twenty centuries, as demonstrated by the remains of a Roman necropolis known as Catacombs of Santa Ciriaca.
The name Verano refers to the fact that the land once belonged to the Verani, a senatorial family at the time of the Roman Republic.
Built along Via Tiburtina consular road during the Napoleonic reign between 1805 and 1814, in accordance with the Edict of Saint Cloud of 1804, which stipulated that burial sites were located outside of the city walls, the project was assigned to the architect Giuseppe Valadier from1807 to 1812. The cemetery was consecrated in 1835, and works went on during the pontificate of Gregory XVI and Pio IX, under the supervision of Virginio Vespignani. Further construction work was performed even after Rome became the Capital of Italy (1870-1871), by adding large plots of land, such as Villa Mancini, where nowadays the "Pincetto" area stands.
The main entrance with its three openings, and four large statues which symbolize Meditation, Hope, Charity and Silence, precedes a large "Quadriportico" designed by Vespignani and completed in 1880. The current appearance is subsequent to the bombing of San Lorenzo neighbourhood (19 July 1943), in which three areas of the Cemetery were damaged: the monumental entrance, with the "Quadriportico" and the "Pincetto" area, the administrative offices and the area in front of the "Military Memorial".
Verano Monumental Cemetery, with its rich cultural heritage, can be defined as an open-air museum without equal in terms of quantity and features: an incalculable historical, artistic and cultural treasure. .Go to fotogallery
Useful information
Verano Monumental Cemetery
Piazzale del Verano, 1 – 00185 ROMA
Information: AMA-Cimiteri Capitolini Call Center Tel. 06 49236331
From Monday to Thursday 8.30 am - 3 pm
On Friday: 8.30 am-1.30 pm, holiday working excluded.
View map
Opening and closing time
from 1st October to 31st March 7:30 am – 6:00 pm from 1st April to 30st September 7:30 am – 7:00 pm
Entrance is allowed up to one hour before closing time.
SOS
For emergencies please call
Tel. 06 49236252 during opening time
Tel. 06 516933 or 06 516939 or 06 516940 or 06 516941 during closing time
Morgue
According to the law in force, corpses are accepted as follows:
working days: until 6 pm
in case of two consecutive public holidays, the second day will be opened until 1 pm.
Private vehicle access
On Saturday, entrance is allowed to every private vehicle. The other days, including non working days the entrance is allowed to:
people older than 65.
handicappated people with a proper showed handicap placard;
pregnant women;
people with temporary or permanent disability by showing proper documentation.
Permittance is asked and released from Ufficio Vigilanza e Custodia, Via del Verano 68, from Monday to Friday 9.00 am 12.00 pm. An annual permit may also be requested. Entrance with scooters or motorcycles is not permitted. Dogs entrance is allowed only with leash, and in case they are big, they must wear muzzle.
AMA free shuttle
Covid 19 emergency
In order to use Ama free shuttle, special rules must be followed;
no more than 4 people wearing face mask may get in;
hands must be sanitised with a special available product;
passengers can occupy only indicated seats.
People who stay on the ground must keep a safe distance by always wearing a mask and avoid gathering.
Verano free shuttle works every day, including non working days and leaves each 30 minutes from "Ingresso Carri", nearby Piazzale del Verano Entrance.
Summer timetable (1st April-30th September) from 08.00 am to 12.30 pm and from 02.30 pm to 06.00 pm (last shuttle ride)
Winter timetable (1st October -31th March) from 08.00 am to 12.30 pm and from 02.30 pm to 05.00 pm (last shuttle ride)
The 21 Verano routes are showed on the map. According to the law the shuttle is suitable for handicapped people.
Transportation
bus and tram lines 3 -19 -71 - 88 - 163 – 163F-443 - 448 - 490 - 491 - 492- 495 – 542-542F-545 - 649 - C2 - C3
Services
Through the eleven Rome Cemeteries Management, AMA Capital Cemeteries offers a public monopoly service regulated by a proper "Service Contract" that is to say: Cemetery Concessions management (both for burial recess and for private area tomb); Cemeteries operations such as inhumation, exhumation, burial, cremation, and other operations related to), Necroscopic services such as mortal registry, mortal police, dignified funerals for poor people, morgue. Straightforward maintenance (streets and gardens cleaning, tombs, Flaminio's crematorium management, etc); restoring, highly complex maintenance, new building construction. Other services such as : information, patrolling, private building planning, votive lighting as per Laurentino Cemetery; highly complex maintenance, Verano service shuttle, ceremonies management on demand.