Flaminio - Prima Porta Cemetery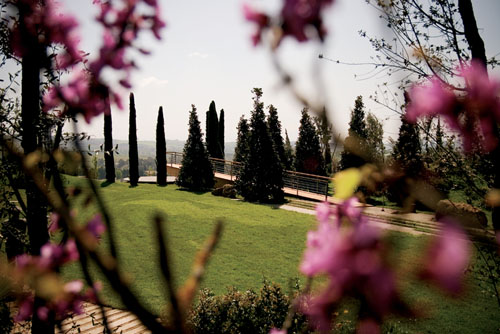 GO TO FOTOGALLERY
Flaminio Cemetery (also known as Prima Porta Cemetery) was consecrated in 1941 and is considered as a masterpiece of contemporary cemetery architecture. With its 140 hectares of extension it is the largest cemetery in Italy crossed by 37 km internal roads. In order to respect different cults, there are specific departments dedicated to different religions (Catholic, Evangelical, Jewish and Islamic) with their respective churches and temples: the Catholic Church dedicated to Saint Michael the Archangel, The Israelite Temple and the Polish Chapel, erected by the Poles in Italy and consecrated by Giovanni Paolo II on 1th November 1991. Nearby the Crematorium stands the Garden of Memories: three hectares of wooded hill with meadow and bushes dedicated to the ritual of the dispersion of ashes
Into Flaminio cemetery you find:
the archaeological area of a Roman Villa of 25 B.C.
Montebello Cemetery, a burial place since 1888
A Monument to the Yugoslav Partisans opened on 22nd September 1978.
Into Flaminio cemetery are buried many famous people from culture, art, entertainment, sport, current affairs and Italian politics. We remember some of them: Ilaria Alpi, Ennio Antonelli, Maurizio Arena, Enrico Berlinguer, Angelo Bernabucci, Fulvio Bernardini, Francesca Bertini, Carla Boni, Rossano Brazzi, Gianni Brezza, Renato Carosone, Enzo Cerusico, Gino Cervi, Tonino Cervi, Giorgio Chinaglia, Eduardo Ciannelli, Luigi Comencini, Vincenzo Crocitti, Carlo Dapporto, Luciana Dolliver, Arturo Dominici, Elena Fabrizi (Sora Lella), Rosa Falzacappa (Rossella Falk), Amintore Fanfani, Luigi Gatti, Giuliano Gemma, Ileana Ghione, Aldo Giuffré, Ninì Gordini Cervi, Sylva Koscina, Franco Lechner (Bombolo), Virna Lisi, Roldano Lupi, Tommaso Maestrelli, Pupella Maggio, Corrado Mantoni (Corrado), Riccardo Mantoni, Giovanni Manurita, Marcello Martana, Gilberto Mazzi, Pietro Mennea, Fedora Mingarelli, Domenico Modugno, Benjamin Murmelstein, Umberto Nobile, Silvana Pampanini, Paolo Panelli, Vincenzo Paparelli, Alberto Rabagliati, Renato Rascel, Nora Ricci, Luciano Rossi, Celeste Raffaele Rosso (Nini Rosso), Nunzio Rotondo, Stefania Rotolo, Gigi Sabani, Lydia Simoneschi, Aroldo Tieri, Vieri Tosatti, Bice Valori, Stefano Vanzina (Steno).
Useful Information:
Via Flaminia Km 14,400 – 00188 ROMA
Ama-Cimiteri Capitolini Call Center 06 49236331
from Monday to Thursday 8.30 am - 03.00 pm. Friday 8.30 am - 1.30 pm. With the exclusion of public holidays
View map
Opening and closing Hours
from 1st October to 31st March 7:30 am - 6:00 pm
from 1st April to 30st September 7:30 am - 7:00 pm
Visitor may enter up to one hour before closing time.

SOS – in case of emergencies please call
Tel. 06 49236252 daily from 7:30 am to 6:00 pm
Tel. 06 516933 or 06 516939 or 06 516940 or 06 516941 during closing time.
Morgue
According to the law in force, corpses are accepted as follows:
working days: until 6 pm
in case of two consecutive public holidays, the second day will be opened until 1 pm.
Transportation:
bus and tram lines C1 - C2 - C3 - C3 limited - C4 - C5 - C6 - C7