Laurentino Cemetery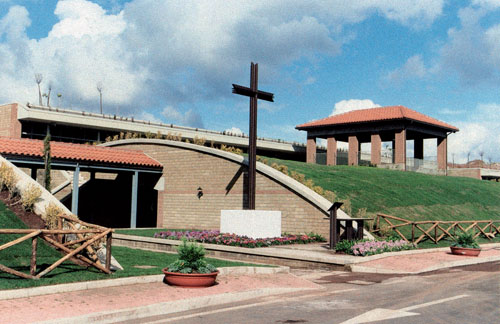 GO TO FOTOGALLERY
Laurentino Cemetery, consecrated on March 9th, 2002, is the third largest cemetery in Rome. Extending over a green area of about 21 hectares it is the cemetery regarding Municipalities VIII, IX, XI (ex Municipalities XI, XII, XV) and Municipality VII (only the part of territory corresponding to the former Municipality X) as well as Municipality X (former Municipality XIII) in case there is no availability into the Ostia Antica Cemetery.
The Chapel of Risen Jesus
Into Laurentino Cemetery, as in every other urban and suburban cemetery of Rome, there is a ritual place able to welcome a lot of Roman citizens who every day go to visit their beloved. The Chapel of the Risen Jesus, with its circular structure, occupies an area of 220 square meters with about 140 seats, and is located near the main street to the cemetery. The roof and the masonry structures are covered with laminated copper tiles and slabs of Trani stone. Outdoor, there is a large churchyard of about 120 square meters where ceremonies take place. The square in front of the churchyard, of about 1200 square meters, is used as a parking area for the exclusive use of indoor and outdoor rites attendees.
The Garden of Angels
Inaugurated on January 4th, 2012, the "Garden of Angels" is a space expressly dedicated to unborn children (products of conception or foetuses). The area of about 600 square meters, is in front of the "Children's Camp" and is symbolically guarded by two marble statues representing two Angels. The choice of the Angel underlies a widespread sense, not necessarily religious, which associates the image of childhood with that of angels, as the archetype of innocence and purity. The Garden of Angels welcomes those entitled to reside in every municipality of Rome, without any exclusion for those who do not belong to Laurentino's municipality .
Useful Information:
Via Laurentina Km 13,500 – 00134 ROMA
for further information please contact AMA-Cimiteri Capitolini Call Center Tel. 06 49236331
From Monday to Thursday 8.30 am - 03.00 pm
On Friday from 8.30 am to 1.30 pm
With the exclusion of Public Holidays
View map
Opening and closing time
from 1st October to 31st March 7:30 am – 6:00 pm
from 1st April to 30st September 7:30 am – 7:00 pm
Visitors may enter up to one hour before closing time.
SOS
Only for emergencies, please call
Tel. 06 49236252 or 06 49236255 daily from 7:00 am to 6:00 pm
Tel. 06 516933 or 06 516939 or 06 516940 during closing time
Morgue
According to the law in force, corpses are accepted as follows:
working days: until 6 pm
in case of two consecutive public holidays, the second day will be opened until 1 pm.
Transportation:
bus and tram lines C8 - C11 - C13 - 703